Real Ninja Shooting Stars Shuriken- Made in Ishikawa prefecture, Japan
 Ninjas played an essential role in Japan during the late 16th century, and many feudal lords deployed them to win wars. Among many tools Ninja used, Ninja star or Shuriken (手裏剣) was one of the most widely known items for Ninja to complete their missions.
 We recreated this iconic item for you to enjoy an authentic Ninja experience with the help of Ishida Iron Factory, located in Ishikawa prefecture, Japan. They are one of the leading companies in terms of metal processing technologies. Each Ninja star is made by skilled craftworkers who are specialized in processing metals. This Ninja star is not only super sharp but as durable as it can get by going through both tempering and quenching. If you ever fancy throwing Ninja stars, this is an excellent opportunity. Also, you can display these two Ninja stars in the beautiful wooden box.
If you run a Ninja Dojo or are a practitioner of Ninjutsu (martial arts for Ninja) and would like to order more than 10 sets, please feel free to contact us.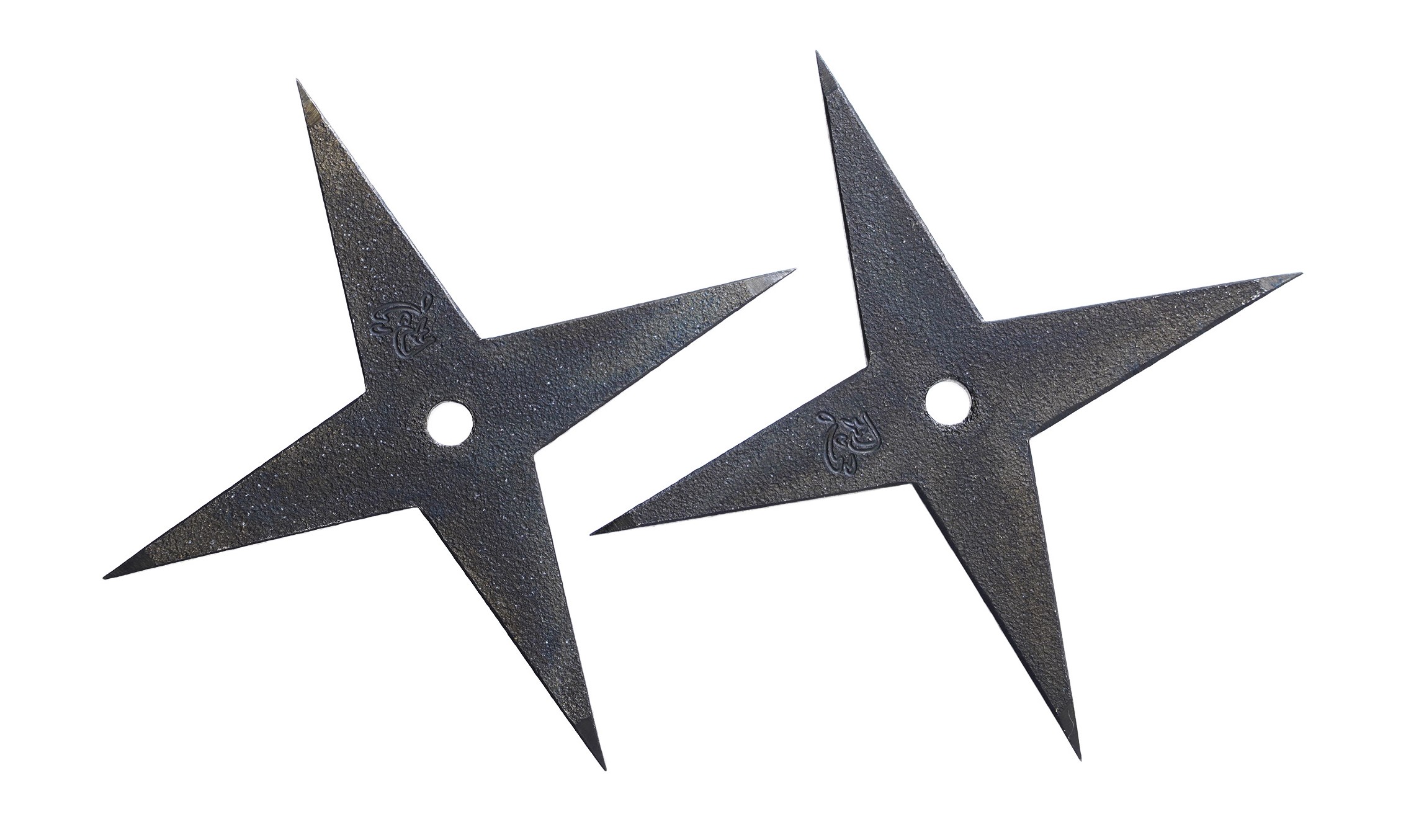 If you like to know more about how these Ninja stars are made, please feel free to watch our video.
About the wooden box
 忍(Nin) is the first letter of Ninja (忍者). And its Japanese calligraphy is written on the paper that covers the wooden box. And, the box is wrapped with *Sanada Himo. There are two compartments made of brown-colored soft cloth stored in the box and a carrying bag for two Ninja stars also comes with it.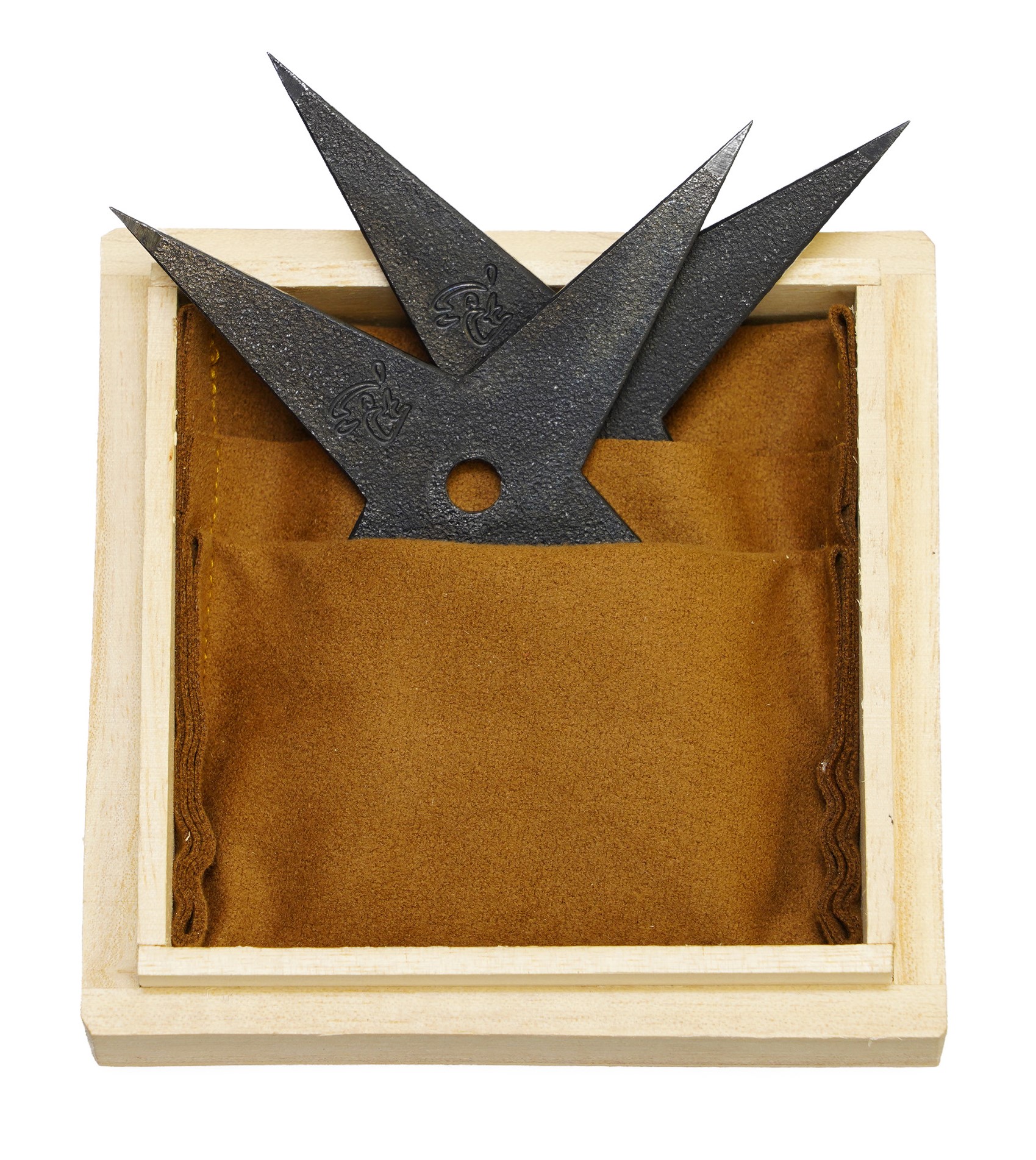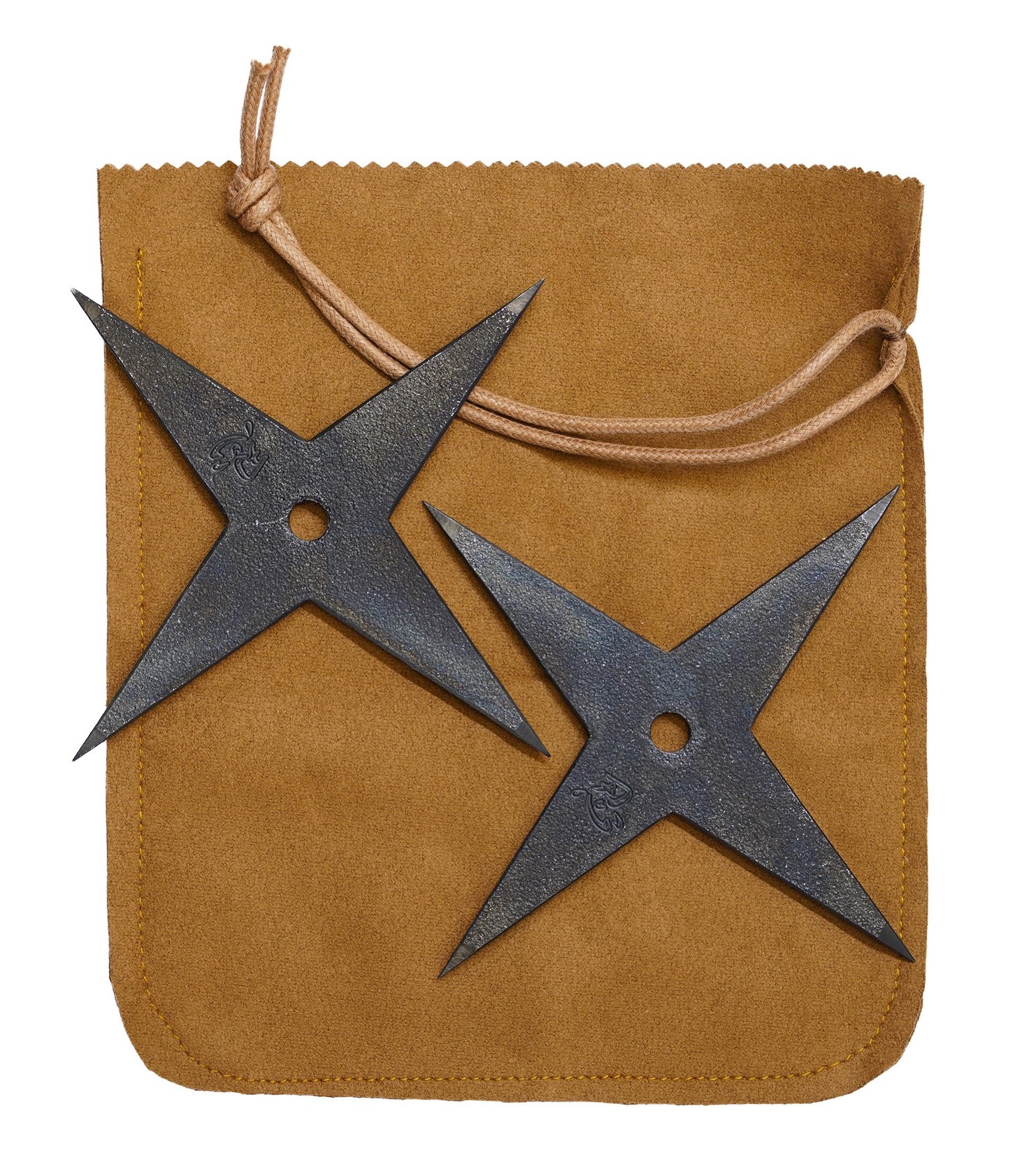 What is Sanada Himo?
 Sanada Himo (真田紐) is a type of woven fabric. Sanada Himo is firmly woven with Tateito (経糸, warp) and Yokoito (緯糸, weft). Sanada Himo is one of the narrowest woven fabrics in the world. It is hard to stretch but easy to retie. Therefore, it helps tie luggage or hangs heavy objects; Sanada Himo has been a well-known item for Japanese people since ancient times. Sanada Himo is used in various scenes. For example, people use it as a cord to tie wooden boxes of tea utensils or precious goods. It helps preserve the traditional Japanese culture of storing valuable items in wooden boxes. Its beauty makes an item looks attractive. We think it is also the reason why people have cherished Sanada Himo for a long time. It is said that the name Sanada came from the fact that a famous feudal lord Sanada Yukimura was the one who first used this kind of woven fabric. We are confident Sanada Himo attached to the box will enhance its beauty.
*Please keep in mind that we randomly pick the Sanada Himo color from the three colors.
Gift Idea- Present Ninja Stars to Your Significant Other
 Are you looking for a unique gift for someone interested in Japanese culture or Ninja? We recommend you send these real Ninja stars as a present. These Ninja stars are great to display as they come with the box.
 We hope it would be a memorable gift. Now it is time for you to share an amazing quality real Ninja stars with your family members or friends, for instance. Also, gift wrapping is available for this item. It is free of charge. For more information, please feel free to contact us. It is always our pleasure to serve you.
【About us】
Ninja Weapon Museum is located in Kanazawa, Japan, exhibiting antique artifacts related to the history of Ninja and Samurai.

【Please read the information below before you make a purchase】
1. About the Ninja stars
 It is made in Japan and has sharp edges(4 parts) on the star. Please make sure that you use them safely. 
*Please keep in mind that the surface of this Ninja Star isn't even, and you can find scratches. Please check the photos to see these details before making a purchase.
2. Payment method
We accept payment through Stripe(Credit card), Apple Pay, or ChromePay, all of which are secure payment methods. If you prefer other payment methods, please contact us. You may either pay in JPY, USD. The price is set in Japanese Yen. Prices in other currencies are automatically calculated based on the latest exchange rate.

3. Shipping Duration
 We ship via EMS (Express Mail Service) provided by Japan Post. It usually takes at least 5-14 days to deliver the package after you place an order. We offer Free International Shipping as long as we can ship your order by EMS. 
 We will inform you of the order's tracking number via email. Please make sure you fill out your valid email address correctly. 
*Please keep in mind that due to the spread of COVID-19, there might be possible delays in delivery. 
4. Notes
 Please ensure that the country of your order's destination allows you to import real Ninja stars before you make a purchase.