Antique Japanese Sword Shirasaya Wakizashi Unsigned 
【Description】
Summary
 This type of Japanese sword is called Wakizashi. While there is no signature on the tang, you can see beautiful Hamon (tempering line) on the blade.  The registration paper was issued by the board of the education in Osaka prefecture for this Wakizashi. That means that Bunkacho (The Agency for Cultural Affairs) acknowledges this as a work of art. The sword needs to be traditionally hand-forged and made of Tamahagane carbon steel to be registered in the system.
 WAKIZASHI refers to a 30-60 cm long blade (11.8-28.6 inches) and was worn on the waist along with UCHI-GATANA(Katana). Samurai carried WAKIZASHI as a backup sword next to Katana. Samurai needed to use Wakizashi when he fought in a small room or with proximity where Katana would be too long to unsheathe.  Also, when Samurai entered a castle, he had to leave his Katana to the castle guard. In contrast, Wakizashi was allowed to bring inside as self-protection.
 WAKIZASHI was also the sword for the famous Samurai custom called SEPPUKU(切腹; Stomach-Cut), the ritual act of Samurai to take responsibility for crime act or losing battles.
 The use of Wakizashi became more widespread among Samurais during the Edo period. (1603-1868 A.D. ) Because the Edo Government had launched the national law to force all Samurais to wear two Japanese swords (Katana and Wakizashi) to identify themselves as the regime's military officers.
What is the material of Japanese sword? 
 Japanese blacksmithing has over a millennium of history.  It dates back to the 1st century A.D. when ancient blacksmiths studied template method from the continent. Copper pottery and rice farming techniques were also introduced to Japan at the same time.
 Since then, Japanese blacksmiths had spent centuries to invent the traditional metal forging technique called TATARA(鑪).  TATARA is a clay melting pot where you put iron sand and charcoal together to bond these chemicals with intensive heat. By using this technique, they started to make Japanese swords out of Tatara carbon-steel. This type of carbon-steel was later called TAMA-HAGANE (玉鋼; Ball-Steel).  
*Please keep in mind that there is no certificate for this blade. 
【 Blade】
Cutting Edge Length(Nagasa):35.4 cm (13.9inches)
Curvature(Sori): 0.6 cm(0.23 inches)


Hamon:
The crystalline structure which forms along the cutting edge of a blade as a result of the hardening process
Jimon(Jihada):
visible steel surface pattern created by folding and hammering during forging process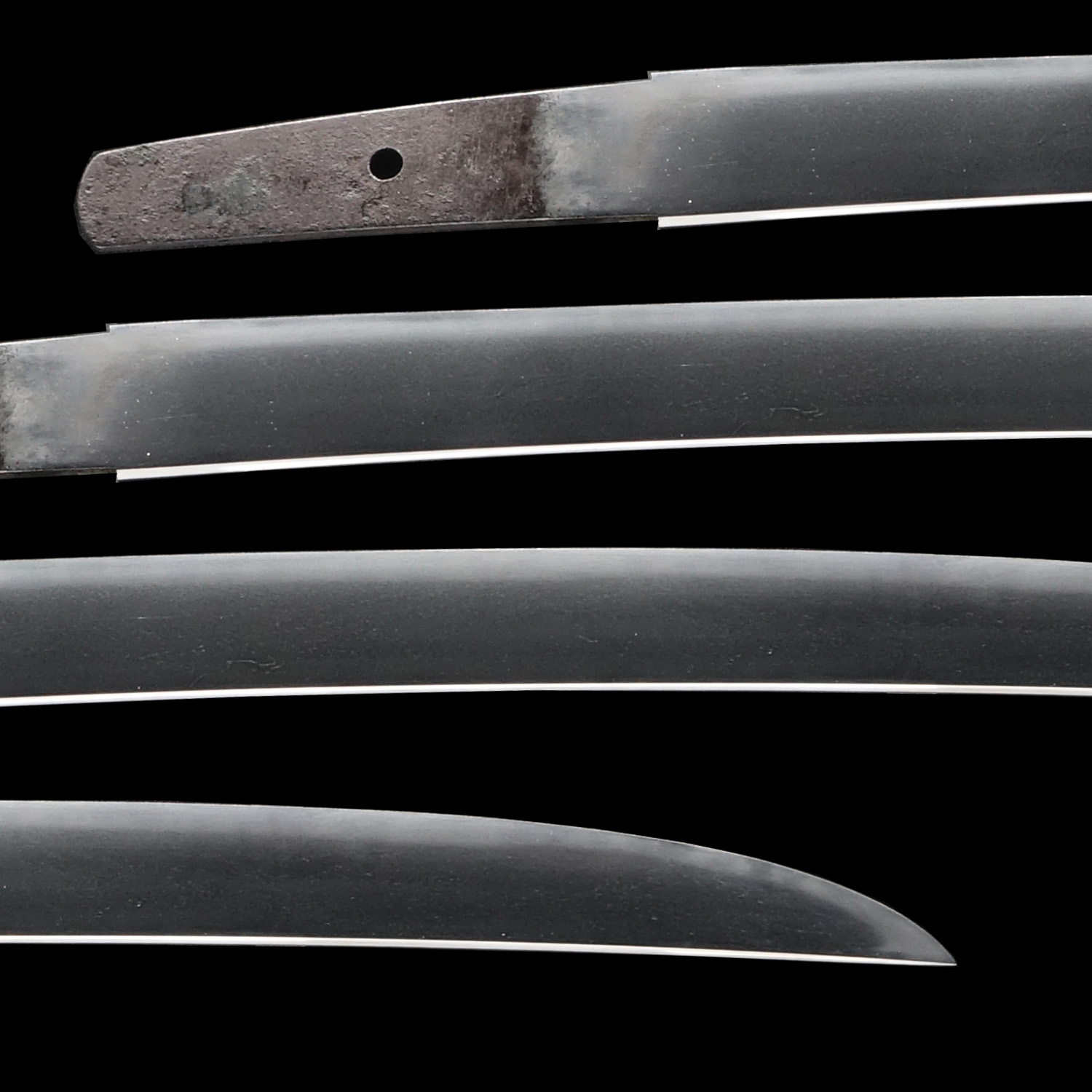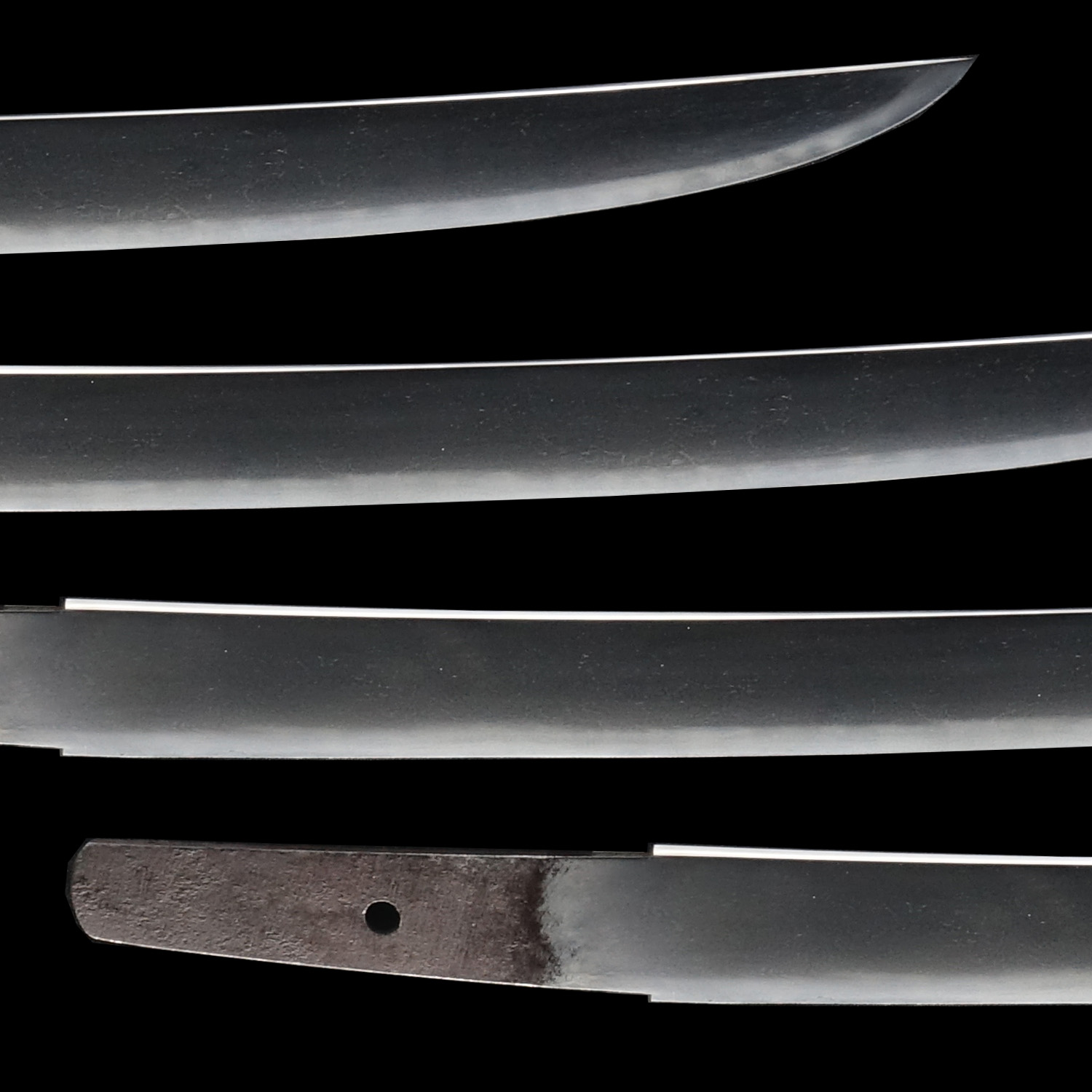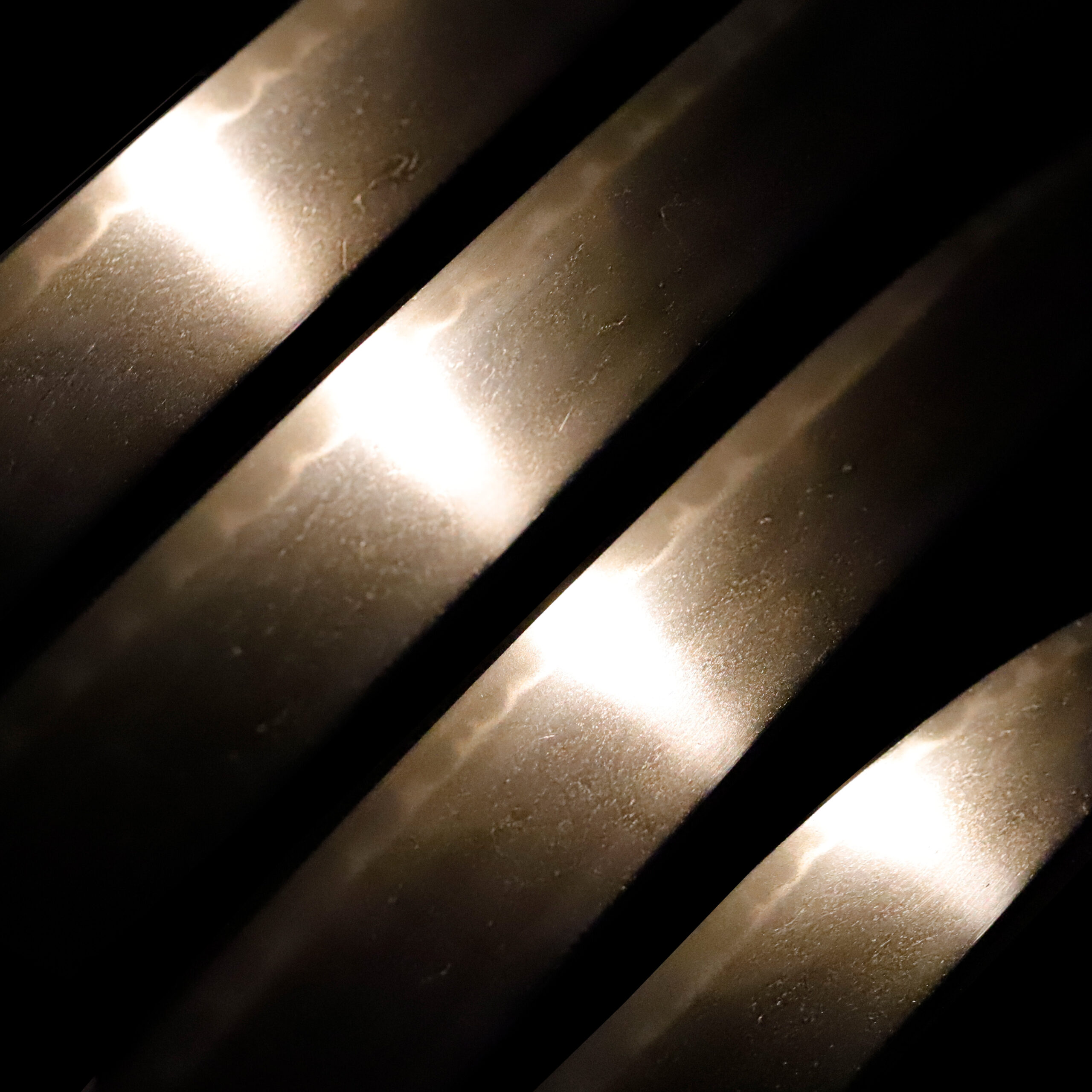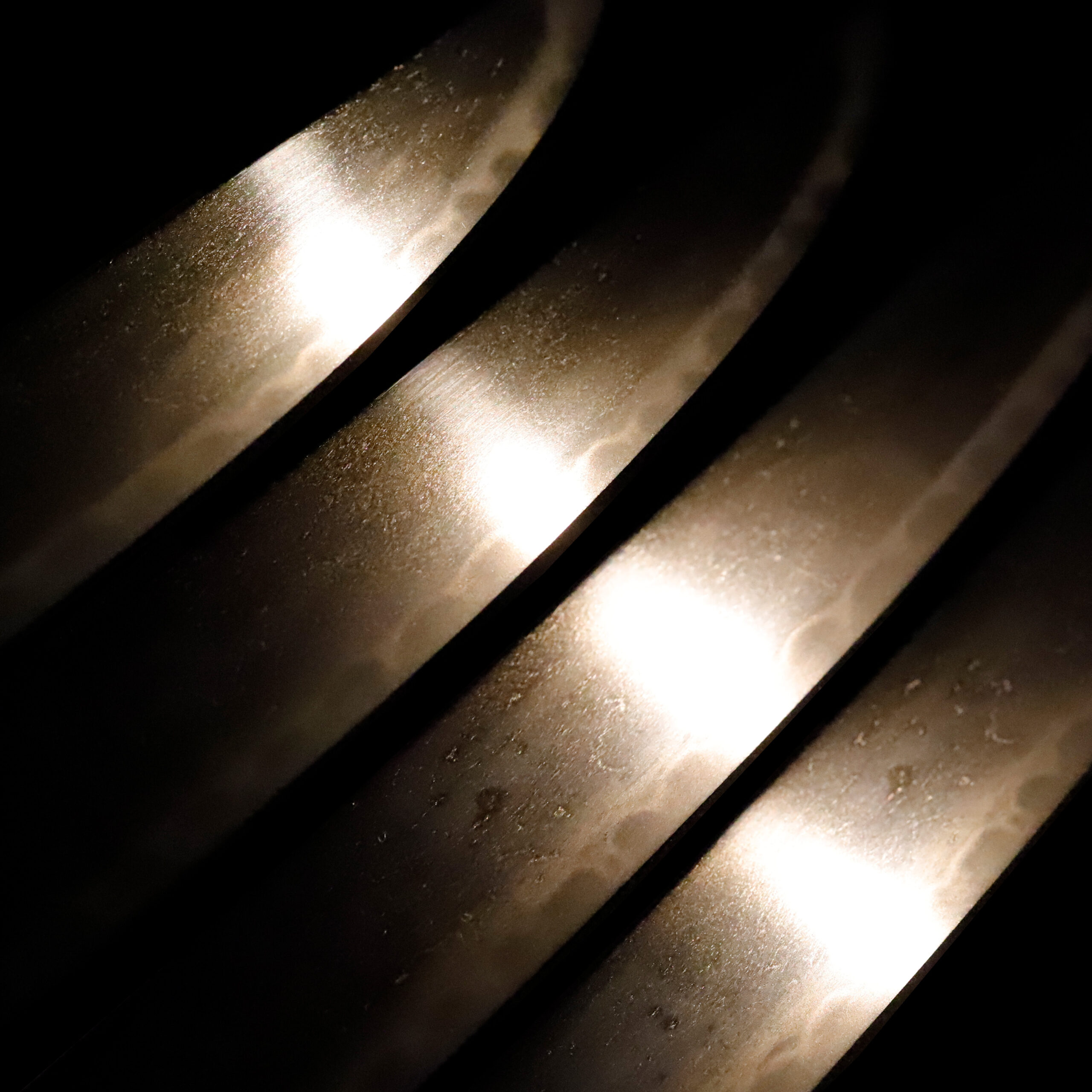 Nakago:Nakago is the tang of the Japanese sword.
 Japanese swordsmiths left the black rust on the tang because it prevents red rust while the tang is in its handle. And the discoloration of the tang was created over time, and it is a great indicator for a Japanese sword specialist to estimate when the sword was forged.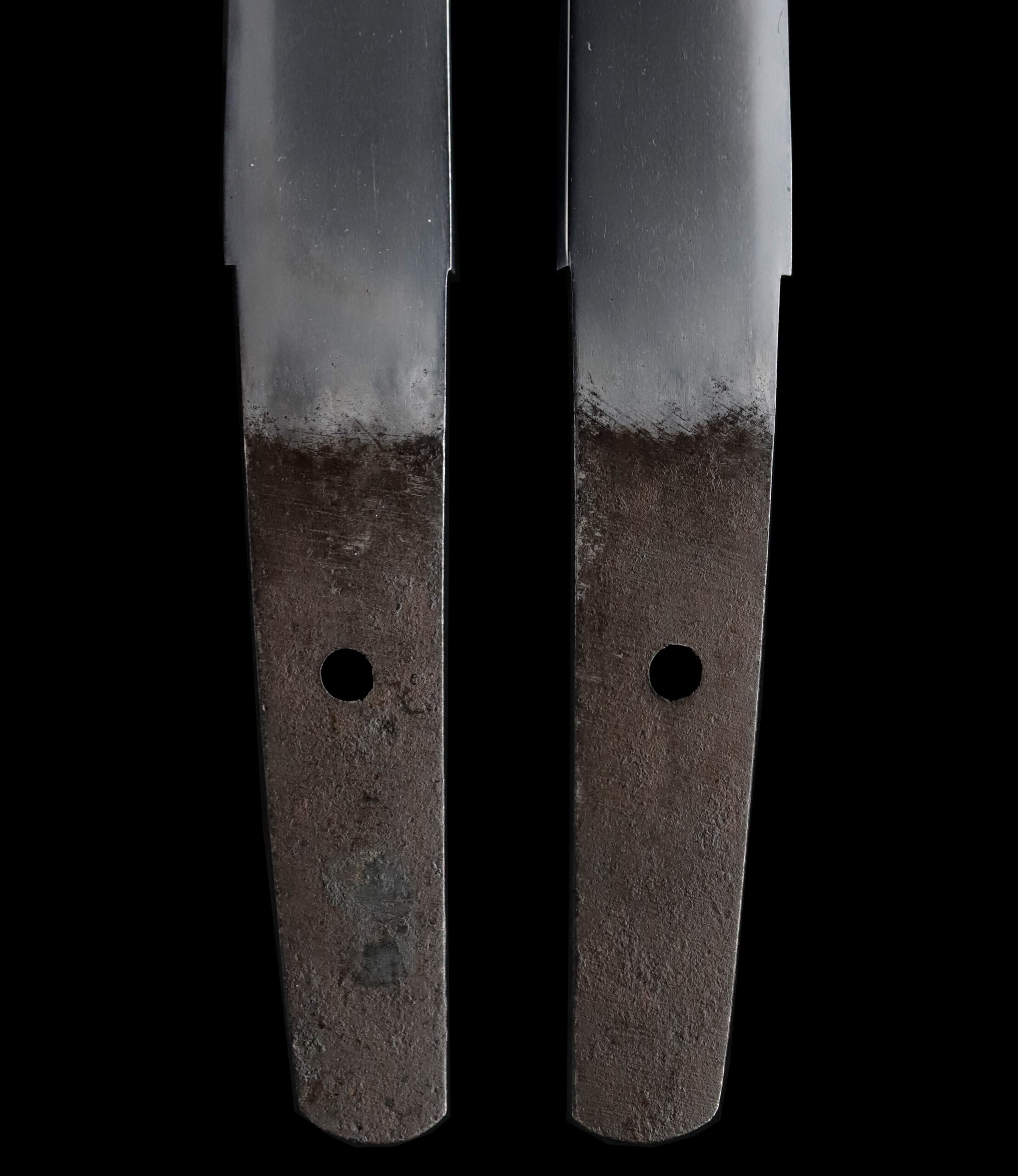 Habaki:Habaki is the equipment to make the blade not touch its scabbard inside. It prevents the blade from getting rusty and chipped.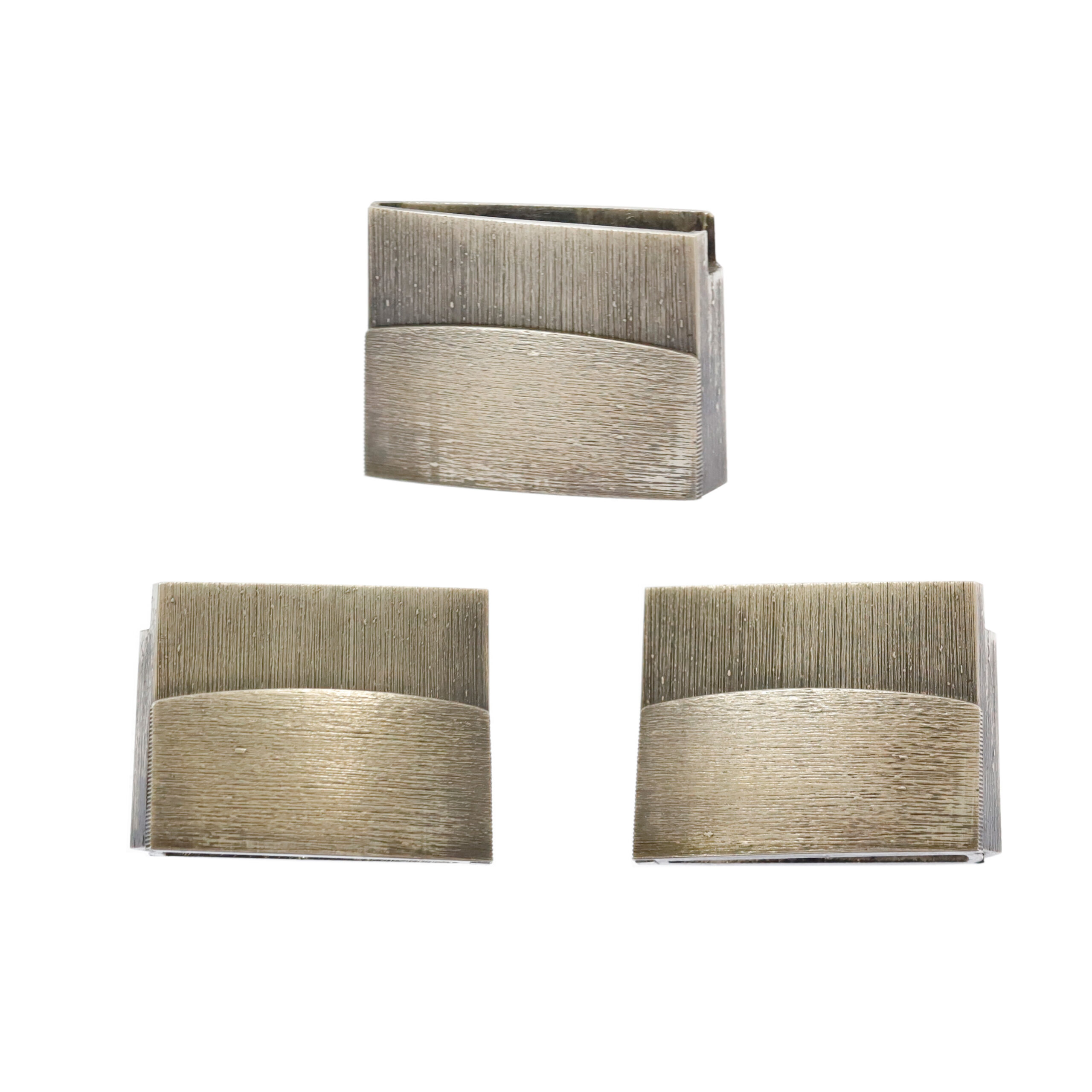 Registration Number :  Osaka 63354
 The Board of Education in Osaka prefecture issued a registration paper for this sword . It is called Jyu Token Rui Torokusho(銃刀剣類登録証). Bunkacho(The Agency for Cultural Affairs) acknowledges a Japanese sword with this paper as a work of art.
The sword needs to be traditionally hand-forged and made of Tamahagane carbon steel to be registered in the system. With this paper, its owner in Japan can legally own an authentic Japanese sword. Based on this registration number, we will apply for its export permit.
This paper will need to be returned to the board of education when the sword is being shipped abroad, but you can receive a copy of it. An English translation of this registration paper is available on request.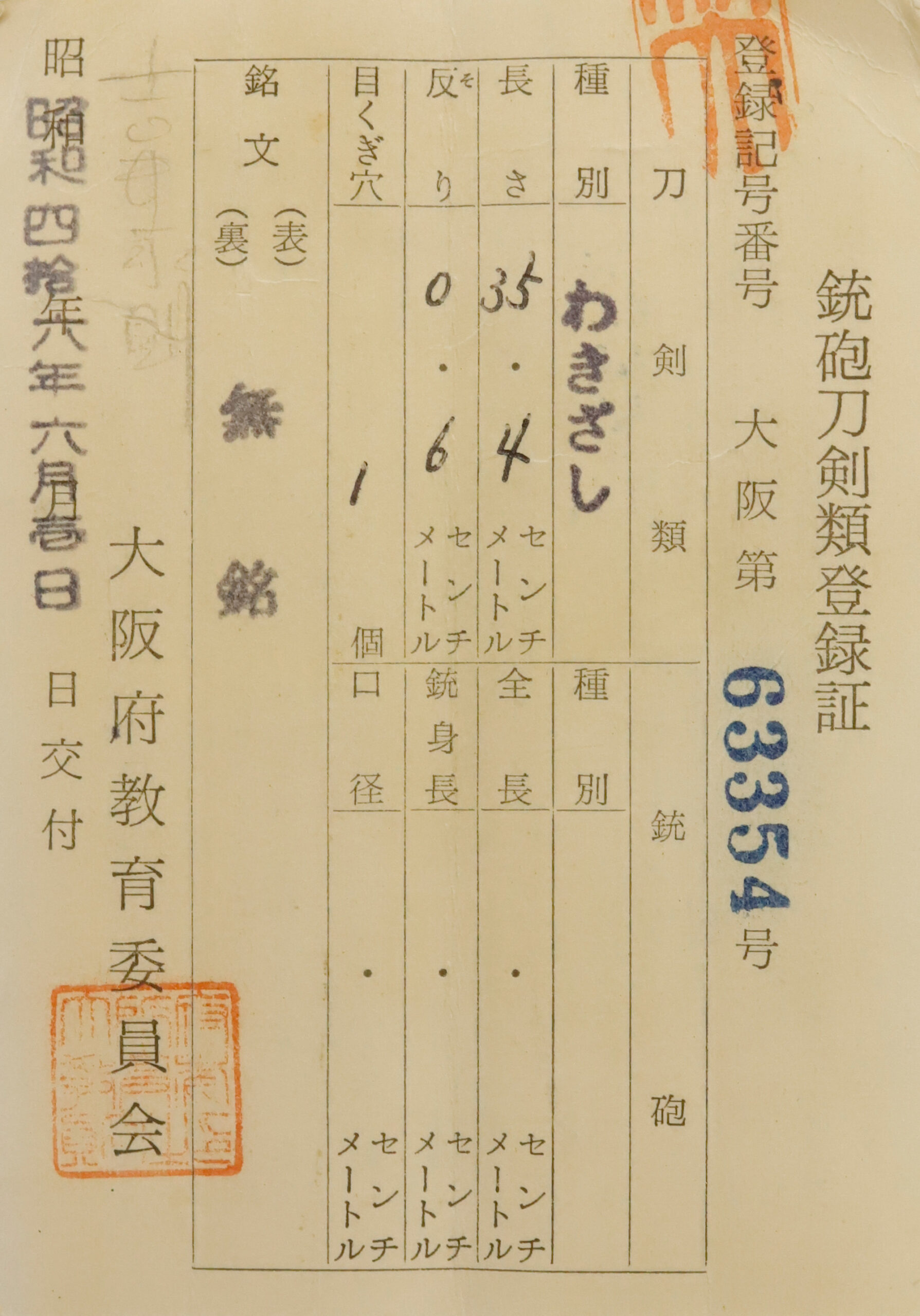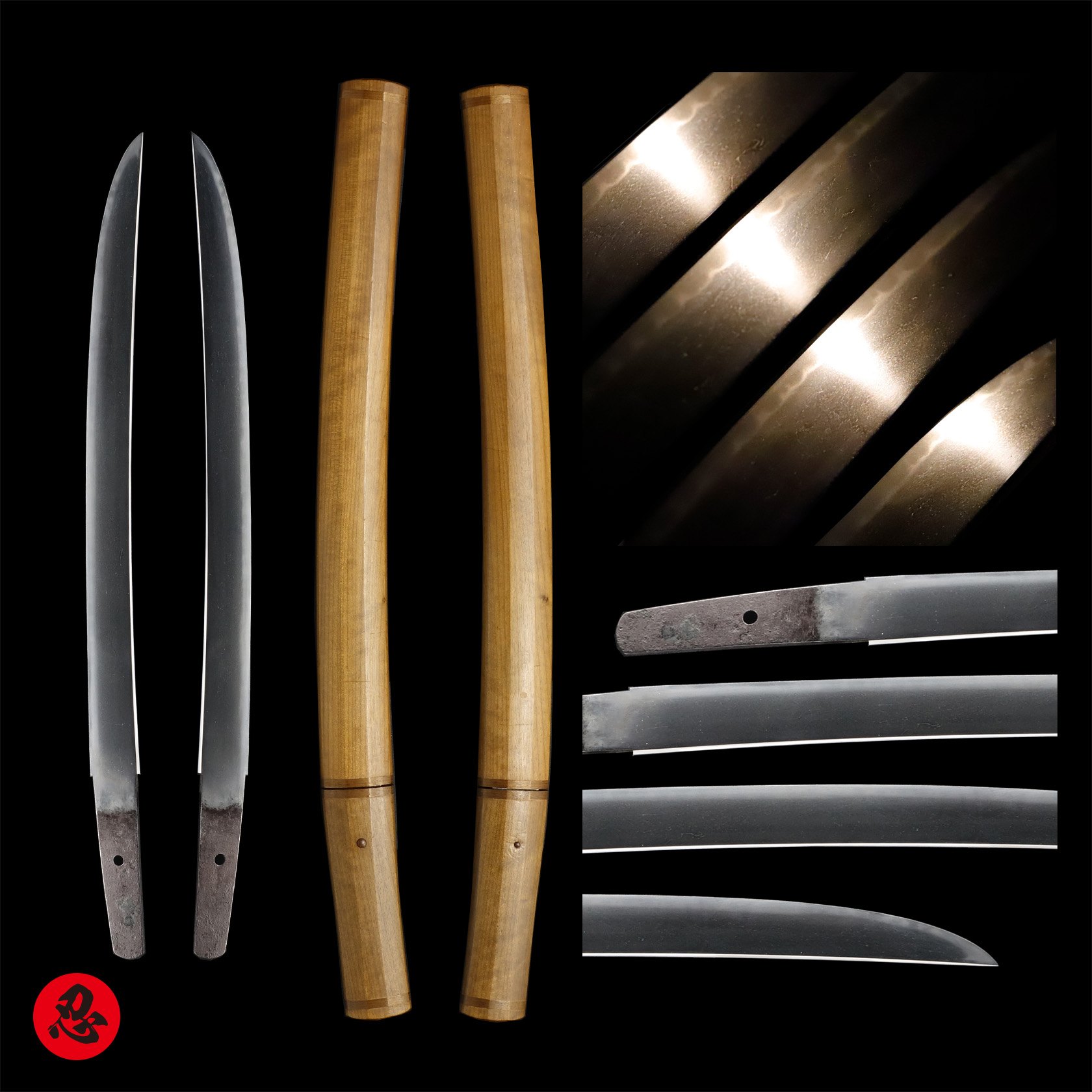 —————————————————————–
【About us】
Ninja Weapon Museum is located in Kanazawa, Japan, exhibiting antique artifacts related to the history of Ninja and Samurai.
【Japanese Sword& Export Process】
 The Japanese swords we deal with are hand-forged edged swords made in Japan. It was made from the traditional carbon steel called TAMAHAGANE(玉鋼). Samurai Museum is familiar with the proper legal procedure for an antique/ authentic Japanese sword to be exported from Japan. 
 Each Japanese sword is registered under the Agency for Cultural Affairs and the Board of Education in Japan. They issue a registration paper for each Japanese sword for its owner in Japan to legally possess it. The Japanese sword with its registration paper means it was traditionally hand-forged in Japan.

 To legally export the sword from Japan to other countries, we will have to apply for its permit to the Agency for Cultural Affairs(Bunkacho) and return the original registration paper to the Board of Education. It normally takes around 2-4 weeks to receive this permit after submitting required documents. And we would like you to expect at least 1-1.5 months for your order to arrive at your given address after you ordered. 
【Payment method】
We accept payment through Stripe(Credit card), Apple Pay, or ChromePay, all of which are secure payment methods. If you prefer other payment methods, please contact us. You may either pay in JPY, USD. The price is set in Japanese Yen. Prices in other currencies are automatically calculated based on the latest exchange rate.
*If you like to use PayPal, please feel free to contact us

【Shipping】
 We have shipped authentic Japanese swords to the USA, UK, Canada, Mexico, Germany, Switzerland, France, Hong Kong and Australia. If you don't live in these countries and like to order, please contact us first before making a purchase. We offer Free International Shipping as long as we can send antique Japanese swords by either EMS or FedEx(Canada). 
 We normally ship by EMS(Express Mail Service) provided by Japan Post. When we receive an order from the Canada we will use FedEx instead as EMS temporarily stops shipping from Japan to those countries due to COVID-19. 
 We will send you a tracking number for your order as soon as we hand it to the post office/FedEx. We will put 100 % insurance on the shipping document without any extra charge. Based on the total amount, there might be a duty tax or other fee for you to pay, depending on the countries. We use package cushioning to protect the item and put it in a PVC pipe, which is one of the most secure packages because of its durability.
 It will normally takes 5-14 days for the item to arrive at your given address after we dispatch it. Time of delivery is estimated as accurately as possible by the carrier but does not take into account any delays beyond our control such as by inclement weather, post office holiday seasons.
* If you live in Australia and like to purchase an authentic Japanese sword, please click here to know the detail.
*Please keep in mind that due to the spread of COVID-19, there might be delays in shipping. If you like to know the detail about shipping, please feel free to ask us.
【How To Contact Us】
 Please contact us through email, Facebook Messenger if you have any questions. You can find each icon on the right side of the website. Please click one of them to reach us. We will reply to you within 1-2 business days.
【A Guide to Japanese Sword Maintenance】
 After acquiring an genuine Japanese sword, it is also important to know how to take good care of it. Here is the special video for you. Mr. Paul Martin, Japanese sword expert, shows you how to give proper maintenance to your sword. By mastering how to clean the Japanese sword, its aesthetic beauty will last forever.
*This video is uploaded in Samurai Museum Shop, which is run by Tonbo8 CO,LTD, the same company as Ninja Weapon Museum Shop.
MORE ANTIQUE JAPANESE SWORD FOR SALE
 Thank you for reading all the information on the page. If you have any difficulty choosing the right Japanese sword for you, we will be more than happy to help you find the one that speaks to you the most. Please feel free to contact us.